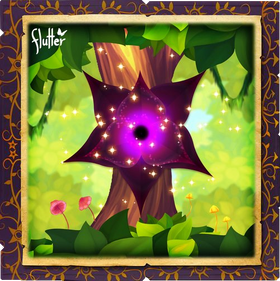 The Set-Flower Events is the oldest event type and works similarly to normal breeding. By now it seems like

unaway
decided to discontinue this event type as the last one took place October 2014.
During the event limited attraction flowers spawn around the Forest like regular Attraction Flowers. They can also be obtained from feeding the Strawberry Poison Dart Frog (with a 10% chance to get an event flower).
Usually all butterflies of these sets are unlocked from the start of the event.
The attraction flowers can be placed in the region spot of the incubator. To get a specific butterfly, you can also place Rarity and Size Flowers.
Past Events
Attraction Flowers
Leafwing

10%
20%
50%
100%
Sells for 100
Sells for 200
Sells for 500
Sells for 1,000
Upgrade to 100% for 45
Upgrade to 100% for 40
Upgrade to 100% for 25
Shop Price: 50
Perisama

10%
20%
50%
100%
Sells for 100
Sells for 200
Sells for 500
Sells for 1,000
Upgrade to 100% for 45
Upgrade to 100% for 40
Upgrade to 100% for 25
Shop Price: 50
Tsubasa

10%
20%
50%
100%
Sells for 100
Sells for 200
Sells for 500
Sells for 1,000
Upgrade to 100% for 45
Upgrade to 100% for 40
Upgrade to 100% for 25
Shop Price: 50
Admiral

10%
20%
50%
100%
Sells for 100
Sells for 200
Sells for 500
Sells for 1,000
Upgrade to 100% for 45
Upgrade to 100% for 40
Upgrade to 100% for 25
Shop Price: 50
Birdwing

10%
20%
50%
100%
Sells for 100
Sells for 200
Sells for 500
Sells for 1,000
Upgrade to 100% for 45
Upgrade to 100% for 40
Upgrade to 100% for 25
Shop Price: 50
Quetzal

10%
20%
50%
100%
Sells for 100
Sells for 200
Sells for 500
Sells for 1,000
Upgrade to 100% for 45
Upgrade to 100% for 40
Upgrade to 100% for 25
Shop Price: 50
Metalmark

10%
20%
50%
100%
Sells for 100
Sells for 200
Sells for 500
Sells for 1,000
Upgrade to 100% for 45
Upgrade to 100% for 40
Upgrade to 100% for 25
Shop Price: 50
Cracker

10%
20%
50%
100%
Sells for 100
Sells for 200
Sells for 500
Sells for 1,000
Upgrade to 100% for 45
Upgrade to 100% for 40
Upgrade to 100% for 25
Shop Price: 50