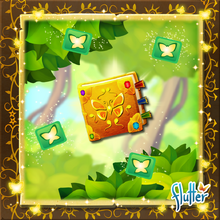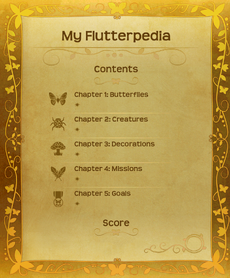 The Flutterpedia is where the game stores all information you have found, and all progress you have made (more specifically, it holds missions, butterfly information, goals, and decorations).
It can be found on the bottom of the game. It changes in appearance as soon as you reach a higher Flutterpedia score. To do that you need to earn Flutterpedia Points, which you get for hatching and leveling up butterflies.
Chapters

 Butterflies
Here you'll find all informations of all butterflies you already unlocked and attracted. Even if you sell it, its entry will remain.
Creatures
At this chapter you will find some more informations about the creatures, which share the forest.
Decorations
This sections shows all the decorations you already achieved.
Missions
This chapter lists all missions including your progress.
Goals
At this section you can find all goals – achieved and in progress.
Flutterpedia Points
You get Flutterpedia points for the first time
unlocking a new species (0.fig = Butterfly Silhouette):
each following stage (10 ) (unlocking 1.fig – 4.fig = Caterpillar, Scientific Name, Chrysalis and Description).
completing the last stage (unlocking Special Ability):
So you may get for completing a butterfly 120 – 200

. This can be done only once for each butterfly species.
Unlocked by
Collecting

unlocks several content in the game. Your Flutterpedia Score ist most important for unlocking new Core Sets. The following table shows an ascending list of the things you can unlock by reaching a specific Score.
Ranking
The book displayed at the Flutterpedia Button switches its style depending on your score. The following gallery shows how the Flutterpedia Icon looks like in its different stages.
0
400
Adept Hobbyist
800
Adept Collector
1,200
Adept Flutterer

1,600
Adept Lepidopterist
2,000
Skillful Hobbyist
2,400
Skillful Collector
2,800
Skillful Flutterer

3,200
Skillful Lepidopterist
3,600
Star Hobbyist
4,000
Star Collector
4,400
Star Flutterer

4,800
Star Lepidopterist
5,200
Expert Hobbyist
5,600
Expert Collector
6,000
Expert Flutterer

6,400
Expert Lepidopterist
6,800
Master Hobbyist
7,200
Master Collector
7,600
Master Flutterer
Notes
Stage 20 (Master Flutterer) seems to be the last known stage for now.
Community content is available under
CC-BY-SA
unless otherwise noted.