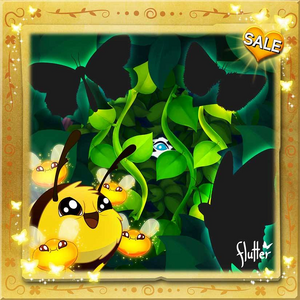 As soon as the tutorial is finished and a Flutterpedia Score of

150 is reached, you can participate in Events.
Events can last for a weekend or up to two weeks. There will also be a timer for the length of the event duration in the top left corner of the screen.
Every now and then, there's a event ongoing in your forest. You'll get a notification, when you open your game. It can be a Butterfly Event or an Event not related with a butterfly set. Between two butterfly events, alongside the Facebook Competitions there can be Sale Events and Gameplay Events (seperated or combined), which will usually last for about one weekend each. Some of the events are dedicated to special times and dates of the year. Sometimes they can even happen during the week on special occassions.
The bigger Butterfly Events bring new species and Event Exclusive Rewards to your forest and are divided into three kind of events:
Non-Butterfly Events
Game Play
Honeydew Frenzy

The amount of honeydew all butterflies produce is doubled during this time. On Flutter's Birthday it's even tripled.
Easter Egg Hunt

Mega Missions Weekend


These weekends mean, you can switch between Missions for half price and they will also be done in the half of the time.
Special Abilities Weekend


On weekends like this all Special Abilities are ready to use after the half of usual recharging time. Even the Buff-Tailed Bumblebee is affected!
Rajah Brooke's Birdwing Event


The Rajah Brooke's Birdwing Event focused on releasing/selling
Rajah Brooke's Birdwings
of any stage. It was the first and only standalone
Community Event
, thought we didn't reach the last goals.
Half Time Incubation


An event weekend that halves the incubation time of your eggs OR enables Caterpillars' and Chrysalis' to feed or grow twice as fast.
Half Price Egg Laying


An event weekend where it costs half of the normal price to lay an egg.
Visiting Butterfly Bonanza


Whenever it's time for a Visiting Butterfly Bonanza the frequency of Special Visitor is turned down to an hour, which means a new butterfly from past events comes around every 60 minutes to be bought with

and/or you can use it's Special Ability.
Garden Events
From January 2020 was introduced Garden Events that take place of the Special Visitor and Butterfly Bonanza.
Doubled Offer Wall and Video Snail Rewards
During this weekends all rewards you get from the offer wall or from the Florida Tree Snail by doing some tasks like watching videos are raised by 100%.
Doubled Pollen


During this weekends all Pollen Flowers produce twice as much as usually.

Sales
Game Play Events are usually companied by some Sales, but they can come around independently from each other. By now there had been five kind of sales, which can come around combined: Buff-Tailed Bumblebee, any kind of core Attraction Flowers or Strawberry Poison Dart Frog treats and delicacies for Half Price, Forest Expansions or Storage Items for 20% to 50% off.
Selling Event- butterflies
Yes its possible to sell a event butterfly because since you have it in your flutterpedia you will be able where before the share button was to lay an egg for flutterbucks.
this depends on wich butterfly you sell (common ones are cheap legendary are exspensive)
Event Calendar
Here you'll find the time line for the past events of any kind.
2013 – 2014 – 2015 – 2016 – 2017 - 2018 - 2019 - 2020
April 2013
May 2013
June 2013
July 2013
August 2013
Monday
Tuesday
Wednesday
Thursday
Friday
Saturday
Sunday
1
Tsubasa Event
2
Tsubasa Event
3
Tsubasa Event
4
Tsubasa Event
5
Tsubasa Event
6
Tsubasa Event
7
Tsubasa Event
8
Tsubasa Event
9
Tsubasa Event
10
Tsubasa Event
11
Tsubasa Event
12
Tsubasa Event
13
14
15
16
17


Bring Back Voting

18


Bring Back Voting

19


Bring Back Voting

20


Bring Back Voting

21


Bring Back Voting

22
Leafwing Event
23
Leafwing Event
24
Leafwing Event
25
Leafwing Event
26
Leafwing Event
27
Leafwing Event
28
Leafwing Event
29
Leafwing Event
30
Leafwing Event
31
Leafwing Event
September 2013
October 2013
November 2013
December 2013
January 2014
February 2014
March 2014
April 2014
May 2014
June 2014
July 2014
August 2014
September 2014
October 2014
November 2014
December 2014
January 2015
February 2015
March 2015
April 2015
May 2015
June 2015
Monday
Tuesday
Wednesday
Thursday
Friday
Saturday
Sunday
1
Nyeupe Event
2
Nyeupe Event
3
Nyeupe Event
4
Nyeupe Event
5 &


Caterpillars and Chrysalis ready twice as fast

6 &


Caterpillars and Chrysalis ready twice as fast

7 &


Caterpillars and Chrysalis are ready twice as fast

8 &


Caterpillars and Chrysalis ready twice as fast

9
10
11
12 &

13 &

14 &

15 &

16
17
18
19
Forest Expansions 50% &
50% off & 2x
20
Forest Expansions 50% &
50% off & 2x
21
Forest Expansions 50% &
50% off & 2x
22
Forest Expansions 50% &
50% off & 2x
23
24
Azure Event
25
Azure Event
26
Azure Event
27
Azure Event
28
Azure Event
29
Azure Event
30
Azure Event
July 2015
Monday
Tuesday
Wednesday
Thursday
Friday
Saturday
Sunday
1
Azure Event
2
Azure Event
3
Azure Event
4
Azure Event
5
Azure Event
6
Azure Event
7
8
9
10 &

Rarity Attraction Flowers 50% off
11 &

Rarity Attraction Flowers 50% off
12 &

Rarity Attraction Flowers 50% off
13 &

Rarity Attraction Flowers 50% off
14
15
16
17 &

Amigo Flowers 50% off
18 &

Amigo Flowers 50% off
19 &

Amigo Flowers 50% off
20 &

Amigo Flowers 50% off
21
22
23
24


Ready in half time &


50% off &
2x
25


Ready in half time &


50% off &
2x
26


Ready in half time &


50% off &
2x
27


Ready in half time &


50% off &
2x
28
29
30
31
Buff-Tailed Bumblebee Half Price &
Forest Expansions 50% &
50% off
August 2015