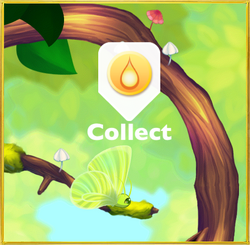 Butterflies in your Forest will earn Honeydew over time. When a honeydew symbol

appears above the butterfly, you can collect the honeydew earned by clicking on the butterfly.
The earning rates are the same on each level (see
Notes
for exceptions), but the time to collect Honeydew is increased. The amount depends on
rarity
,
size
and
set
.
Another way to earn Honeydew from Butterflies is selling them. They are worth most fully leveled up and fed. How much you can get from selling butterflies you can find at Butterfly Selling Values.
Different butterflies earn different amounts of honeydew over time. The sortable table below lists the earning rates per hour of all butterflies.
Notes & References
Exceptions from having the same earning rate on each level:
Butterfly Name
per Minute
per Hour
Pale Sulphur
10
6
5
5
5
5
600
360
320
300
300
300
Dotted Border
6
6
5
5
5
5
360
360
309
300
300
300
BD
–
–
–
–
–
–
360
360
343
340
330
330
All earning rates are de facto calculated from stage five earning rates.
The Earning Rates per Time are rounded by banker's rounding to keep the most accurate numbers.
The butterflies of the Aztec and Wayang sets give +5% Honeydew on level five to their specific set butterflies (including themselves). This is stackable and not reflected in the tables.
Some butterflies affect their own or others earning rates by using their Special Abilities. This is also not reflected in the tables.
Community content is available under
CC-BY-SA
unless otherwise noted.