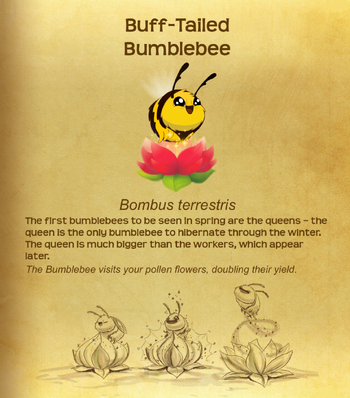 Scientific Name: Bombus terrestris
Description: The first bumblebees to be seen in spring are the queens – the queen is the only bumblebee to hibernate through the winter. The queen is much bigger than the workers, which appear later.
The Bumblebee visits your pollen flowers, doubling their yield.
The Buff-Tailed Bumblebee – also known as the 'Honeybee' – buzzes around your forest after obtaining it. It can also be dragged around like butterflies by tapping and holding it.
Every 12 hours it provides the special ability to double the amount of pollen that will come out of one pollen flower, that is already producing pollen. (e.g. Use a Buff-Tailed Bumblebee on a flower growing 338

and when it opens, it will release 676

.)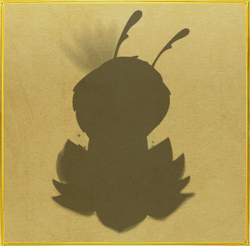 Description not unlocked: Get a Bumble Bee to unlock.
To unlock the Buff-Tailed Bumblebee in the Flutterpedia's creatures section, it must be bought for

200.
You can purchase multiple Buff-Tailed Bumblebees, and each one will have its own recharge time of 12 hours for its special ability.
Notes
Community content is available under
CC-BY-SA
unless otherwise noted.